The Placement department endeavors to provide excellent job opportunities to the students. It also inspires   the students to become first generation entrepreneurs. Our vision and belief consolidates in our efforts to ensure that our students become self-developed industrialists of tomorrow. The Department works on Aptitude test preparation, personality development and industry-institute interactions. Our students have a mission of adding value to the society through technological innovation. Thus, the Recruiters have always found value in the quality of students at BLDECET.
Our Recruiters
The training of students is an very important activity in placement cell because the training provided by placement cell will reduce the gap between industry & academia. In this regard institute is putting all possible efforts to provide a good training module.
Phase  1:- life skills, communication skills etc. (2nd Year)
Phase  2:- Aptitude, Reading skills etc. (3rd Year)
Phase  3:- Technical, GD, Personal Interview skills etc. (4th Year)
Apart from above training module the students are exposered to IT industry though Infosys campus connect program. The experts from industry are invited to give talk on their expertise & motivate students.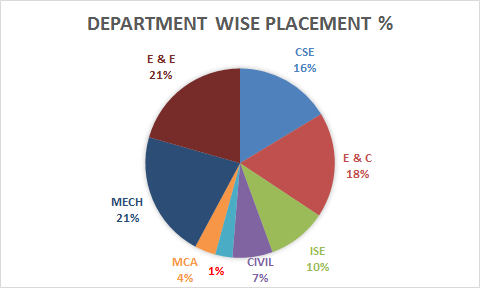 | | | | | |
| --- | --- | --- | --- | --- |
| Sl.No | Date | Company Name | Students Name | Branch |
| 1 | 05/08/2018 | SLK Software Services Pvt. Ltd, Bangalore | Manasi Aitwade | ECE |
| 2 | 05/08/2018 | SLK Software Services Pvt. Ltd, Bangalore | Akash Desai | ECE |
| 3 | 05/08/2018 | SLK Software Services Pvt. Ltd, Bangalore | Adarsh Harage | MECH |
| 4 | 05/08/2018 | SLK Software Services Pvt. Ltd, Bangalore | Asif Loni | EEE |
| 5 | 09/10/2018 | Tata Consultancy Services Bangalore | Hunchamma S Hampani | ECE |
| 6 | 09/10/2018 | Tata Consultancy Services Bangalore | Harsh B Shah | CSE |
| 7 | 09/10/2018 | Tata Consultancy Services Bangalore | Manasi S Kulkarni | CSE |
| 8 | 05/10/2018 | Tessolve Semi-Conductor, Bangalore. | Naba Hundekar | ECE |
| 9 | 05/10/2018 | Tessolve Semi-Conductor, Bangalore. | Syeda Saba Praveen M | ECE |
| 10 | 28/11/2018 | Technologics Global Pvt Ltd, Bangalore | Renuka Bidarkundi | ISE |
| 11 | 28/11/2018 | Technologics Global Pvt Ltd, Bangalore | Namrata Hosamani | ISE |
| 12 | 28/11/2018 | Technologics Global Pvt Ltd, Bangalore | Basavaraj S H | MECH |
| 13 | 28/11/2018 | Technologics Global Pvt Ltd, Bangalore | Rohit A | MECH |
| 14 | 28/11/2018 | Technologics Global Pvt Ltd, Bangalore | Chaitra Y D | EEE |
| 15 | 28/11/2018 | Technologics Global Pvt Ltd, Bangalore | Veena K Erapal | ECE |
| 16 | 18/12/2018 | Kirloskar Ferrous Industries Ltd., Koppal. | Ojas L Jain | MECH |
| 17 | 18/12/2018 | Kirloskar Ferrous Industries Ltd., Koppal. | Adarsh R Harage | MECH |
| 18 | 18/12/2018 | Kirloskar Ferrous Industries Ltd., Koppal. | Sohail Ahmed Attar | EEE |
| 19 | 04/12/2018 | Wipro Limited, Bangalore | Soumya Shetagar | CSE |
| 20 | 04/12/2018 | Wipro Limited, Bangalore | Kartik Managuli | CSE |
| 21 | 12/01/2019 | Wipro Limited, Bangalore | Hunachamma Hampani | ECE |
| 22 | 25/02/2019 | "Cognizant Technology Solution Pvt Ltd" Bangalore | Gururaj Pandhari | ECE |
| 23 | 25/02/2019 | "Cognizant Technology Solution Pvt Ltd" Bangalore | Vaishnavi Desai | ECE |
| 24 | 06/03/2019 | "Infosys Ltd" Bangalore | Akash Revankumar Desai | ECE |
| 25 | 06/03/2019 | "Infosys Ltd" Bangalore | Arpita Srikant Kulkarni | ECE |
| 26 | 06/03/2019 | "Infosys Ltd" Bangalore | Shreelaxmi  Muttagi | ECE |
| 27 | 06/03/2019 | "Infosys Ltd" Bangalore | Sushma  Kulkarni | ECE |
| 28 | 06/03/2019 | "Infosys Ltd" Bangalore | Akshata Arjun Shinde | CSE |
| 29 | 06/03/2019 | "Infosys Ltd" Bangalore | Chaitali Vinayak Managoli | CSE |
| 30 | 06/03/2019 | "Infosys Ltd" Bangalore | Pradeep  Nimbaragi | CSE |
| 31 | 06/03/2019 | "Infosys Ltd" Bangalore | Seema Ravasab Kamate | CSE |
| 32 | 06/03/2019 | "Infosys Ltd" Bangalore | Nikhil Sitaram Shorapurkar | ISE |
| 33 | 06/03/2019 | "Infosys Ltd" Bangalore | Renuka  Bidarakundi | ISE |
| 34 | 06/03/2019 | "Infosys Ltd" Bangalore | Ojas L Jain | MECH |
| 35 | 06/03/2019 | "Infosys Ltd" Bangalore | Prasad Hanamant Yankanchi | MECH |
| 36 | 06/03/2019 | "Infosys Ltd" Bangalore | Shailesh Sanjay Gorwade | MECH |
| # | Date | Company Name | Student Name | Branch |
| --- | --- | --- | --- | --- |
| 1 | 08/09/2017 | Global Edge, Bangalore | MANJUNATH R YALAMELI | ECE |
| 2 | 08/09/2017 | Global Edge, Bangalore | USMANGANI SHABBIR AHMED JANVEKAR | ECE |
| 3 | 08/09/2017 | Global Edge, Bangalore | RASHMI HUNDEKAR | ECE |
| 4 | 08/09/2017 | Global Edge, Bangalore | TEJAL M. MALI | ECE |
| 5 | 08/09/2017 | Global Edge, Bangalore | AKASH ANAND KULKARNI | CSE |
| 6 | 14/10/2017 | S.L.K Software Solutions | NIKITA HALASANGIMATH | ECE |
| 7 | 23/10/2017 | Make Mi Holidays | NIKITA HALASANGIMATH | ECE |
| 8 | 23/10/2017 | Make Mi Holidays | SHEETAL DESAI | CSE |
| 9 | 23/10/2017 | Make Mi Holidays | KIRAN CHITARI | CSE |
| 10 | 08/11/2017 | Sankalp Semiconductors, Hubli | MANJUNATH R YALAMELI | ECE |
| 11 | 16/11/2017 | Technologics Global Pvt Ltd | AISHWARYA PATIL | ISE |
| 12 | 16/11/2017 | Technologics Global Pvt Ltd | AZLA BAGWAN | ISE |
| 13 | 16/11/2017 | Technologics Global Pvt Ltd | KAJAL AGARWAL | ECE |
| 14 | 16/11/2017 | Technologics Global Pvt Ltd | KAJAL AGARWAL | CSE |
| 15 | 16/11/2017 | Technologics Global Pvt Ltd | PRAJWALA PATTANSHETTI | EEE |
| 16 | 16/11/2017 | Technologics Global Pvt Ltd | ACHYUT GALAGALI | AUTOMOBILE |
| 17 | 21/02/2018 | Kirloskar Ferrous Industries Pvt Ltd, Koppal | MAHESH SAJJAN | MECH |
| 18 | 21/02/2018 | Kirloskar Ferrous Industries Pvt Ltd, Koppal | VENKATESH R PATIL | EEE |
| 19 | 24/02/2018 | Cranes Software Ltd, Bangalore | LAVA MADAR | ECE |
| 20 | 24/02/2018 | Cranes Software Ltd, Bangalore | SOUMYA B KUMBAR | ECE |
| 21 | 24/02/2018 | Cranes Software Ltd, Bangalore | KALYANI BAGALI | EEE |
| 22 | 02/04/2018 | Anora Labs, Bangalore | SHESHAGIRI .P.D, | ECE |
| 23 | 02/04/2018 | Anora Labs, Bangalore | USMANGANI S JANVEKAR | ECE |
| 24 | 02/04/2018 | Anora Labs, Bangalore | NEELAMMA BOLISHETTI | EEE |
| 25 | 02/04/2018 | Anora Labs, Bangalore | SUSHMA PATIL | ECE |
| 26 | 11/04/2018 | ASAP Software Pvt Ltd", Bangalore | PRITHVI S TALWAR | MECH |
| 27 | 11/04/2018 | ASAP Software Pvt Ltd", Bangalore | FAIZAN AHMED R.A | MECH |
| 28 | 11/04/2018 | ASAP Software Pvt Ltd", Bangalore | NIVEDITA S TEGGI | EEE |
| 29 | 11/04/2018 | ASAP Software Pvt Ltd", Bangalore | PRAJWALA PATTANSHETTI | EEE |
| 30 | 11/04/2018 | ASAP Software Pvt Ltd", Bangalore | SPHURTI RUDRAGOUDAR | ECE |
| 31 | 11/04/2018 | ASAP Software Pvt Ltd", Bangalore | ABHILASHA TOSHNIWAL | CSE |
| 32 | 11/04/2018 | ASAP Software Pvt Ltd", Bangalore | TWINKLE AGARWAL | CSE |
| 33 | 11/04/2018 | ASAP Software Pvt Ltd", Bangalore | SUSHMA NAREGAL | ISE |
| 34 | 11/04/2018 | ASAP Software Pvt Ltd", Bangalore | ALFIYAA BEPARI | ISE |
| 35 | 12/04/2018 | Aarbee Structures Pvt. Ltd", Bangalore | SATISH AFZALPUR | CIVIL |
| 36 | 12/04/2018 | Aarbee Structures Pvt. Ltd", Bangalore | VINOD BELLUBBI | CIVIL |
| 37 | 12/04/2018 | Elcamino Software Pvt Ltd", Bangalore | SANTOSH KUMAR | AUTOMOBILE |
| 38 | 12/04/2018 | Elcamino Software Pvt Ltd", Bangalore | SHASHIDHAR PAWAR | AUTOMOBILE |
| 39 | 12/04/2018 | Elcamino Software Pvt Ltd", Bangalore | AJAY C M | CIVIL |
| 40 | 12/04/2018 | Elcamino Software Pvt Ltd", Bangalore | MOHAMMAD FARAZ KAZI | CIVIL |
| 41 | 12/04/2018 | Elcamino Software Pvt Ltd", Bangalore | AHTESHAM INAMDAR | CIVIL |
| 42 | 12/04/2018 | Elcamino Software Pvt Ltd", Bangalore | MOUNESH K PATTAR | CIVIL |
| 43 | 12/04/2018 | Elcamino Software Pvt Ltd", Bangalore | SATISH ANKALAGI | CIVIL |
| 44 | 12/04/2018 | Elcamino Software Pvt Ltd", Bangalore | POOJA KULKARNI | CSE |
| 45 | 12/04/2018 | Elcamino Software Pvt Ltd", Bangalore | VISHAL KILASKAR | CSE |
| 46 | 12/04/2018 | Elcamino Software Pvt Ltd", Bangalore | LAVA MADAR | ECE |
| 47 | 12/04/2018 | Elcamino Software Pvt Ltd", Bangalore | SUPRIYA SANGAPPA KAMATAGI | ECE |
| 48 | 12/04/2018 | Elcamino Software Pvt Ltd", Bangalore | DAYANAND SHEGUNASHI | ECE |
| 49 | 12/04/2018 | Elcamino Software Pvt Ltd", Bangalore | PRAMOD V ANCHI | ECE |
| 50 | 12/04/2018 | Elcamino Software Pvt Ltd", Bangalore | VINAYKUMAR S NYAMAGOUDAR | EEE |
| 51 | 12/04/2018 | Elcamino Software Pvt Ltd", Bangalore | MANJUNATH BYAKOD | EEE |
| 52 | 12/04/2018 | Elcamino Software Pvt Ltd", Bangalore | GOURAV SHETTY | EEE |
| 53 | 12/04/2018 | Elcamino Software Pvt Ltd", Bangalore | ABDUL HAMEED URF FAIZAN | EEE |
| 54 | 12/04/2018 | Elcamino Software Pvt Ltd", Bangalore | SOUMYASHREE HIREMATH | EEE |
| 55 | 12/04/2018 | Elcamino Software Pvt Ltd", Bangalore | ASHWATH KAKHANDAKI | EEE |
| 56 | 12/04/2018 | Elcamino Software Pvt Ltd", Bangalore | PAVANKUMAR GUGGALI | EEE |
| 57 | 12/04/2018 | Elcamino Software Pvt Ltd", Bangalore | ABHINAV UPPIN | EEE |
| 58 | 12/04/2018 | Elcamino Software Pvt Ltd", Bangalore | SHRAVANKUMAR SIDARADDI | EEE |
| 59 | 12/04/2018 | Elcamino Software Pvt Ltd", Bangalore | VEERESH R HIREMATH | EEE |
| 60 | 12/04/2018 | Elcamino Software Pvt Ltd", Bangalore | AMAR S KORAWAR | EEE |
| 61 | 12/04/2018 | Elcamino Software Pvt Ltd", Bangalore | GURURAJ DESHPANDE | ISE |
| 62 | 12/04/2018 | Elcamino Software Pvt Ltd", Bangalore | AISHWARYA DESAI | ISE |
| 63 | 12/04/2018 | Elcamino Software Pvt Ltd", Bangalore | NAVEEN KULKARNI | ISE |
| 64 | 12/04/2018 | Elcamino Software Pvt Ltd", Bangalore | ZAKI AHMED YADAHALLI | ISE |
| 65 | 12/04/2018 | Elcamino Software Pvt Ltd", Bangalore | SAMEER SHURPALI | ISE |
| 66 | 12/04/2018 | Elcamino Software Pvt Ltd", Bangalore | MOHAMMED AQUIB QURESHI | MCA |
| 67 | 12/04/2018 | Elcamino Software Pvt Ltd", Bangalore | MD. AMIR SOHAIL | MECH |
| 68 | 12/04/2018 | Elcamino Software Pvt Ltd", Bangalore | MD. AQUEEB KALADAGI | MECH |
| 69 | 12/04/2018 | Elcamino Software Pvt Ltd", Bangalore | AKSHAYKUMAR ALANDIKAR | MECH |
| 70 | 12/04/2018 | Elcamino Software Pvt Ltd", Bangalore | NIKHIL M. GUPTA | MECH |
| 71 | 12/04/2018 | Elcamino Software Pvt Ltd", Bangalore | PRASHANTKUMAR BALLOLLI | MECH |
| 72 | 12/04/2018 | Elcamino Software Pvt Ltd", Bangalore | BABU V K | MECH |
| 73 | 12/04/2018 | Elcamino Software Pvt Ltd", Bangalore | KISHORKUMAR NALA | MECH |
| 74 | 20/04/2018 | Bharat Electronics ltd (BEL), Bangalore | TEJAL M MALI | ECE |
| 75 | 25/04/2018 | Q-Spiders, Bangalore | PRASHANT L ANKALAGI | MECH |
| 76 | 25/04/2018 | Q-Spiders, Bangalore | MD. SHOAIB M SOUDAGAR | MECH |
| 77 | 25/04/2018 | Q-Spiders, Bangalore | SAYED SHAHEED BEKINALKAR | MECH |
| 78 | 25/04/2018 | Q-Spiders, Bangalore | VINOD M BELLUBBI | CIVIL |
| 79 | 25/04/2018 | Q-Spiders, Bangalore | DIVYA AVARALLI | CIVIL |
| 80 | 25/04/2018 | Q-Spiders, Bangalore | SHIVANAND BASAPPA BATI | CIVIL |
| 81 | 25/04/2018 | Q-Spiders, Bangalore | GAYATRI M MOSALAGI | CSE |
| 82 | 25/04/2018 | Q-Spiders, Bangalore | PREETI BIRADAR | CSE |
| 83 | 25/04/2018 | Q-Spiders, Bangalore | SUPRIYA KAMATAGI | ECE |
| 84 | 25/04/2018 | Q-Spiders, Bangalore | SUSHMA PATIL | ECE |
| 85 | 25/04/2018 | Q-Spiders, Bangalore | JAYASHREE KARADE | ECE |
| 86 | 25/04/2018 | Q-Spiders, Bangalore | VARSHA M NIMBARAGI | ECE |
| 87 | 25/04/2018 | Q-Spiders, Bangalore | ARANTIKA M BAGEWADI | ECE |
| 88 | 25/04/2018 | Q-Spiders, Bangalore | ARPITA A KUSANUR | EEE |
| 89 | 25/04/2018 | Q-Spiders, Bangalore | PRAJWALA PATTANSHETTY | EEE |
| 90 | 30/04/2018 | Monocept, Hyderabad | RASHMI HUNDEKAR | ECE |
| 91 | 30/04/2018 | Monocept, Hyderabad | KIRAN CHITARI | CSE |
| 92 | 30/04/2018 | Monocept, Hyderabad | SHILPA KOPPARAD | CSE |
| 93 | 03/05/2018 | FACE, Bangalore | GAUTAMI TIMMAPUR | CIVIL |
| 94 | 03/05/2018 | FACE, Bangalore | PRAMOD ANCHI | ECE |
| 95 | 03/05/2018 | FACE, Bangalore | AKASH KULKARNI | CSE |
| 96 | 03/05/2018 | FACE, Bangalore | FAIZAN AHMED ALURKAR | MECH |
| 97 | 07/05/2018 | VEE Technologies, Bangalore | KAVERI A B | CSE |
| 98 | 07/05/2018 | VEE Technologies, Bangalore | SWETA C JOGUR | CSE |
| 99 | 07/05/2018 | VEE Technologies, Bangalore | TRIVENI HITTALAMANI | EEE |
| 100 | 07/05/2018 | VEE Technologies, Bangalore | ASHA SAGAR | EEE |
| 101 | 07/05/2018 | VEE Technologies, Bangalore | NIKITA HALASANGIMATH | ECE |
| 102 | 07/05/2018 | VEE Technologies, Bangalore | SUSHMA PATIL | ECE |
| 103 | 07/05/2018 | VEE Technologies, Bangalore | PRAMOD ANCHI | ECE |
| 104 | 07/05/2018 | VEE Technologies, Bangalore | PRITHVI S TALWAR | MECH |
| 105 | 07/05/2018 | VEE Technologies, Bangalore | MD. AQUEEB KALADAGI | MECH |
| 106 | 07/05/2018 | VEE Technologies, Bangalore | NIKHIL M. GUPTA | MECH |
| 107 | 09/05/2018 | Hinduja Global Solutions, Bangalore. | AISHWARYA PATIL | ISE |
| 108 | 09/05/2018 | Hinduja Global Solutions, Bangalore. | AMIT JANMATTI | ISE |
| 109 | 09/05/2018 | Hinduja Global Solutions, Bangalore. | APOORVA R PATIL | ISE |
| 110 | 09/05/2018 | Hinduja Global Solutions, Bangalore. | SHRUTI J ANGADI | ISE |
| 111 | 09/05/2018 | Hinduja Global Solutions, Bangalore. | PRIYA L KOTYAL | ISE |
| 112 | 09/05/2018 | Hinduja Global Solutions, Bangalore. | PATASKAR PRAGNYA | ISE |
| 113 | 09/05/2018 | Hinduja Global Solutions, Bangalore. | DANAMMA YARANAL | ISE |
| 114 | 09/05/2018 | Hinduja Global Solutions, Bangalore. | MADURI | ISE |
| 115 | 09/05/2018 | Hinduja Global Solutions, Bangalore. | PRITHVI TALAWAR | MECH |
| 116 | 09/05/2018 | Hinduja Global Solutions, Bangalore. | MUBIN MULLA | MECH |
| 117 | 09/05/2018 | Hinduja Global Solutions, Bangalore. | BASAVARAJ DODDAGANIGER | MECH |
| 118 | 09/05/2018 | Hinduja Global Solutions, Bangalore. | NAGARAJ I PATIL | MECH |
| 119 | 09/05/2018 | Hinduja Global Solutions, Bangalore. | SUNIL P CHAVAN | MECH |
| 120 | 09/05/2018 | Hinduja Global Solutions, Bangalore. | SACHIN HIREMATH | MECH |
| 121 | 09/05/2018 | Hinduja Global Solutions, Bangalore. | SAGAR PATIL | MECH |
| 122 | 09/05/2018 | Hinduja Global Solutions, Bangalore. | LAKSHMIKANT SHIRAHATTI | MECH |
| 123 | 09/05/2018 | Hinduja Global Solutions, Bangalore. | AQEEB KALADAGI | MECH |
| 124 | 09/05/2018 | Hinduja Global Solutions, Bangalore. | PRASHANT BALLOLLI | MECH |
| 125 | 09/05/2018 | Hinduja Global Solutions, Bangalore. | PRAVEENKUMAR L | MECH |
| 126 | 09/05/2018 | Hinduja Global Solutions, Bangalore. | VARDHAMAN JEEVAPPAGOL | MECH |
| 127 | 09/05/2018 | Hinduja Global Solutions, Bangalore. | MALLIKARJUN CHANDAKI | MECH |
| 128 | 09/05/2018 | Hinduja Global Solutions, Bangalore. | VISHWA KALYANI | MECH |
| 129 | 09/05/2018 | Hinduja Global Solutions, Bangalore. | NIKHIL M G | MECH |
| 130 | 09/05/2018 | Hinduja Global Solutions, Bangalore. | SHIVASHARAN K | MECH |
| 131 | 09/05/2018 | Hinduja Global Solutions, Bangalore. | PRASAD MASALI | MECH |
| 132 | 09/05/2018 | Hinduja Global Solutions, Bangalore. | K K KARAJAGI | MECH |
| 133 | 09/05/2018 | Hinduja Global Solutions, Bangalore. | PRAVEEN BALI | MECH |
| 134 | 09/05/2018 | Hinduja Global Solutions, Bangalore. | ABHILASH MURAGI | MECH |
| 135 | 09/05/2018 | Hinduja Global Solutions, Bangalore. | SUJAY ANKALAGI | MECH |
| 136 | 09/05/2018 | Hinduja Global Solutions, Bangalore. | SIDDAPPA SOLAPUR | MECH |
| 137 | 09/05/2018 | Hinduja Global Solutions, Bangalore. | SHRIRAM S SALUNKE | MECH |
| 138 | 09/05/2018 | Hinduja Global Solutions, Bangalore. | PRASAD S HAVALDAR | MECH |
| 139 | 09/05/2018 | Hinduja Global Solutions, Bangalore. | PAVANKUMAR R C | MECH |
| 140 | 09/05/2018 | Hinduja Global Solutions, Bangalore. | SURAJ L KINAGIMATH | MECH |
| 141 | 09/05/2018 | Hinduja Global Solutions, Bangalore. | MANJUNATH KONESAGAR | MECH |
| 142 | 09/05/2018 | Hinduja Global Solutions, Bangalore. | SANDEEP S HACHAPPANAVAR | MECH |
| 143 | 09/05/2018 | Hinduja Global Solutions, Bangalore. | JAGADEESH D PAWAR | MECH |
| 144 | 09/05/2018 | Hinduja Global Solutions, Bangalore. | SHIVANAND K RONAD | MECH |
| 145 | 09/05/2018 | Hinduja Global Solutions, Bangalore. | VISHNU PATIL | MECH |
| 146 | 09/05/2018 | Hinduja Global Solutions, Bangalore. | RAVICHANDRA WALIKAR | MECH |
| 147 | 09/05/2018 | Hinduja Global Solutions, Bangalore. | NAVEEN C PATTAR | MECH |
| 148 | 09/05/2018 | Hinduja Global Solutions, Bangalore. | MALLIKARJUN S SAVASUDDI | MECH |
| 149 | 09/05/2018 | Hinduja Global Solutions, Bangalore. | PRASHANT ANKALAGI | MECH |
| 150 | 09/05/2018 | Hinduja Global Solutions, Bangalore. | VISHWANATH Y S | MECH |
| 151 | 09/05/2018 | Hinduja Global Solutions, Bangalore. | PRAKASH M H | MECH |
| 152 | 09/05/2018 | Hinduja Global Solutions, Bangalore. | VIKAS B | MECH |
| 153 | 09/05/2018 | Hinduja Global Solutions, Bangalore. | POORNIMA BIRADAR | MECH |
| 154 | 09/05/2018 | Hinduja Global Solutions, Bangalore. | SUSHMA SINGARADDI | CSE |
| 155 | 09/05/2018 | Hinduja Global Solutions, Bangalore. | SHWETA C J | CSE |
| 156 | 09/05/2018 | Hinduja Global Solutions, Bangalore. | ANITA SHIRUR | CSE |
| 157 | 09/05/2018 | Hinduja Global Solutions, Bangalore. | AMRUTA G PATTAN | CSE |
| 158 | 09/05/2018 | Hinduja Global Solutions, Bangalore. | BHAGYASHRI G TOTAD | CSE |
| 159 | 09/05/2018 | Hinduja Global Solutions, Bangalore. | VISHAL KIRLASKAR | CSE |
| 160 | 09/05/2018 | Hinduja Global Solutions, Bangalore. | ANIRUDDH A BAKALE | CSE |
| 161 | 09/05/2018 | Hinduja Global Solutions, Bangalore. | SHEETAL DESAI | CSE |
| 162 | 09/05/2018 | Hinduja Global Solutions, Bangalore. | K S PRIYANKA | CSE |
| 163 | 09/05/2018 | Hinduja Global Solutions, Bangalore. | ANUPAMA BIRADAR | CSE |
| 164 | 09/05/2018 | Hinduja Global Solutions, Bangalore. | AISHWARYA PORWAL | CSE |
| 165 | 09/05/2018 | Hinduja Global Solutions, Bangalore. | SOUMYA BIRADAR | CSE |
| 166 | 09/05/2018 | Hinduja Global Solutions, Bangalore. | TWINKLE AGARWAL | CSE |
| 167 | 09/05/2018 | Hinduja Global Solutions, Bangalore. | ABHILASHA TOSHNIWAL | CSE |
| 168 | 09/05/2018 | Hinduja Global Solutions, Bangalore. | NISHA MATHAPATI | CSE |
| 169 | 09/05/2018 | Hinduja Global Solutions, Bangalore. | KAVERI A B | CSE |
| 170 | 09/05/2018 | Hinduja Global Solutions, Bangalore. | MEGHA S GANAGI | CSE |
| 171 | 09/05/2018 | Hinduja Global Solutions, Bangalore. | NIRUSHA | CSE |
| 172 | 09/05/2018 | Hinduja Global Solutions, Bangalore. | GAYATRI MOSALAGI | CSE |
| 173 | 09/05/2018 | Hinduja Global Solutions, Bangalore. | SHIVALEELA G S | CIVIL |
| 174 | 09/05/2018 | Hinduja Global Solutions, Bangalore. | LAXMI BELLAGI | CIVIL |
| 175 | 09/05/2018 | Hinduja Global Solutions, Bangalore. | ABHISHEK A CHAVAN | CIVIL |
| 176 | 09/05/2018 | Hinduja Global Solutions, Bangalore. | LAKSHMI S HEBBALATTI | CIVIL |
| 177 | 09/05/2018 | Hinduja Global Solutions, Bangalore. | GOUTAMI TIMMAPUR | CIVIL |
| 178 | 09/05/2018 | Hinduja Global Solutions, Bangalore. | SMITA V HIRELAGI | MCA |
| 179 | 09/05/2018 | Hinduja Global Solutions, Bangalore. | MOHAMMED AQUIB QURESHI | MCA |
| 180 | 09/05/2018 | Hinduja Global Solutions, Bangalore. | ANANT KATTI | MCA |
| 181 | 09/05/2018 | Hinduja Global Solutions, Bangalore. | BHAVANI AMBALAGI | ECE |
| 182 | 09/05/2018 | Hinduja Global Solutions, Bangalore. | MEGHA CHIPPALAKATTI | ECE |
| 183 | 09/05/2018 | Hinduja Global Solutions, Bangalore. | PARVATI METRI | ECE |
| 184 | 09/05/2018 | Hinduja Global Solutions, Bangalore. | VARSHA NIMBARAGI | ECE |
| 185 | 09/05/2018 | Hinduja Global Solutions, Bangalore. | AKSHATA RATHOD | ECE |
| 186 | 09/05/2018 | Hinduja Global Solutions, Bangalore. | SHIVANI S PAWAR | ECE |
| 187 | 09/05/2018 | Hinduja Global Solutions, Bangalore. | MADHURA PATIL | ECE |
| 188 | 09/05/2018 | Hinduja Global Solutions, Bangalore. | AKSHATA G N | ECE |
| 189 | 09/05/2018 | Hinduja Global Solutions, Bangalore. | MEGHA S GANAGI | ECE |
| 190 | 09/05/2018 | Hinduja Global Solutions, Bangalore. | PRIYANKA BHAVIKATTI | ECE |
| 191 | 09/05/2018 | Hinduja Global Solutions, Bangalore. | SNEHA PATIL | ECE |
| 192 | 09/05/2018 | Hinduja Global Solutions, Bangalore. | NIKITA NAIK | ECE |
| 193 | 09/05/2018 | Hinduja Global Solutions, Bangalore. | VIJAYALAXMI R SHIPARAMATTI | ECE |
| 194 | 09/05/2018 | Hinduja Global Solutions, Bangalore. | SHASHWATI S TADDEWADI | ECE |
| 195 | 09/05/2018 | Hinduja Global Solutions, Bangalore. | SHIVAPRASAD KOLEKAR | ECE |
| 196 | 09/05/2018 | Hinduja Global Solutions, Bangalore. | ARPITA A KUSANUR | EEE |
| 197 | 09/05/2018 | Hinduja Global Solutions, Bangalore. | AISHWARYA H C | EEE |
| 198 | 09/05/2018 | Hinduja Global Solutions, Bangalore. | JAMEELA A NADAF | EEE |
| 199 | 09/05/2018 | Hinduja Global Solutions, Bangalore. | DIVYA H YANNI | EEE |
| 200 | 09/05/2018 | Hinduja Global Solutions, Bangalore. | ABHINAV UPPIN | EEE |
| 201 | 09/05/2018 | Hinduja Global Solutions, Bangalore. | MANJULA S CHILVERI | EEE |
| 202 | 09/05/2018 | Hinduja Global Solutions, Bangalore. | MANJULA B TELI | EEE |
| 203 | 09/05/2018 | Hinduja Global Solutions, Bangalore. | VISHWANATH PAWAR | EEE |
| 204 | 09/05/2018 | Hinduja Global Solutions, Bangalore. | N AISHWARYA | EEE |
| 205 | 09/05/2018 | Hinduja Global Solutions, Bangalore. | SOUMYA A GANGANNAWAR | EEE |
| 206 | 09/05/2018 | Hinduja Global Solutions, Bangalore. | ASHWATH KAKHANDAKI | EEE |
| 207 | 09/05/2018 | Hinduja Global Solutions, Bangalore. | ASHA SAGAR | EEE |
| 208 | 09/05/2018 | Hinduja Global Solutions, Bangalore. | TRIVENI HITTALAMANI | EEE |
| 209 | 09/05/2018 | Hinduja Global Solutions, Bangalore. | MEGHA S LACHYAN | EEE |
| 210 | 09/05/2018 | Hinduja Global Solutions, Bangalore. | SAYEDA ZAINAB QUADRI | EEE |
| 211 | 09/05/2018 | Hinduja Global Solutions, Bangalore. | SHAYISTA A SHIVANAGI | EEE |
| 212 | 09/05/2018 | Hinduja Global Solutions, Bangalore. | MAHADEVI WALIKAR | EEE |
| 213 | 09/05/2018 | Hinduja Global Solutions, Bangalore. | AYESHA J BANDUGOL | EEE |
| 214 | 09/05/2018 | Hinduja Global Solutions, Bangalore. | POORNIMA B KOULAGI | EEE |
| 215 | 09/05/2018 | Hinduja Global Solutions, Bangalore. | SHWETA J SODDAGI | EEE |
| 216 | 09/05/2018 | Hinduja Global Solutions, Bangalore. | SARITA CHALAGERI | EEE |
| 217 | 09/05/2018 | Hinduja Global Solutions, Bangalore. | ASHWINI K H | EEE |
| 218 | 09/05/2018 | Hinduja Global Solutions, Bangalore. | AKSHAYKUMAR DESHPANDE | EEE |
| 219 | 09/05/2018 | Hinduja Global Solutions, Bangalore. | SANTOSH KUMBAR | AUTOMOBILE |
| 220 | 09/05/2018 | Hinduja Global Solutions, Bangalore. | ACHYUT GALAGALI | AUTOMOBILE |
| 221 | 09/05/2018 | Hinduja Global Solutions, Bangalore. | AMIT BEMBALAGI | AUTOMOBILE |
| 222 | 18/05/2018 | Infosys Bangalore | AKSHAYKUMAR DESHPANDE | EEE |
| 223 | 18/05/2018 | Infosys Bangalore | KAJAL AGARWAL | ECE |
| 224 | 18/05/2018 | Infosys Bangalore | PRASAD MASALI | MECH |
| 225 | 18/05/2018 | Infosys Bangalore | SHIVAPRASAD KOLEKAR | ECE |
| 226 | 18/05/2018 | Infosys Bangalore | SOUMYA KUMBAR | ECE |
| 227 | 18/05/2018 | Infosys Bangalore | VEENA BHAVI | EEE |
| 228 | 21/05/2018 | Tech-Fortune Technologies, Bangalore | NIRUSHA | CSE |
| 229 | 21/05/2018 | Tech-Fortune Technologies, Bangalore | FAIZAN AHMED | MECH |
| 230 | 21/05/2018 | Tech-Fortune Technologies, Bangalore | JYOTHI DHANAWADE | CSE |
| 231 | 24/05/2018 | ABC for Technology | JAYASHREE KARADE | ECE |
| 232 | 24/05/2018 | ABC for Technology | VARSHA M NIMBARAGI | ECE |
| 233 | 24/05/2018 | ABC for Technology | PREETI BIRADAR | CSE |
| 234 | 24/05/2018 | ABC for Technology | PRAJWALA PATTANSHETTI | EEE |
| 235 | 25/05/2018 | Robert Bosch | AISHWARYA CHABBI | EEE |
| 236 | 23/05/2018 | Pratian Technologies | AKASH KULKARNI | CSE |
| 237 | 05/06/2018 | Syntel-IT Services Pvt ltd | GURURAJ DESHPANDE | ISE |
| 238 | 19/06/2018 | Hinduja Global Solutions, Bangalore. | VIJAYALAXMI BADIGER | AUTO |
| 239 | 19/06/2018 | Hinduja Global Solutions, Bangalore. | MALLIKARJUN ANGADI | AUTO |
| 240 | 19/06/2018 | Hinduja Global Solutions, Bangalore. | BASAVARAJ BIRADAR | AUTO |
| 241 | 19/06/2018 | Hinduja Global Solutions, Bangalore. | DANESHWARI GURUSHETTI | CIVIL |
| 242 | 19/06/2018 | Hinduja Global Solutions, Bangalore. | BHAVYA S. KIRANAGI | CIVIL |
| 243 | 19/06/2018 | Hinduja Global Solutions, Bangalore. | NIKHIL S. SAKKARI | CIVIL |
| 244 | 19/06/2018 | Hinduja Global Solutions, Bangalore. | MAHANTESH S HADAPAD | CIVIL |
| 245 | 19/06/2018 | Hinduja Global Solutions, Bangalore. | KIRANKUMAR M. BISANAL | CIVIL |
| 246 | 19/06/2018 | Hinduja Global Solutions, Bangalore. | RANI HATTI | CSE |
| 247 | 19/06/2018 | Hinduja Global Solutions, Bangalore. | KARUNA K | CSE |
| 248 | 19/06/2018 | Hinduja Global Solutions, Bangalore. | AISHWARYA KANKANAMELI | CSE |
| 249 | 19/06/2018 | Hinduja Global Solutions, Bangalore. | SHANTA YATNAL | CSE |
| 250 | 19/06/2018 | Hinduja Global Solutions, Bangalore. | REVATI LALASANGI | CSE |
| 251 | 19/06/2018 | Hinduja Global Solutions, Bangalore. | LAXMI K HEGGOJI | CSE |
| 252 | 19/06/2018 | Hinduja Global Solutions, Bangalore. | SHRUTI PATIL | CSE |
| 253 | 19/06/2018 | Hinduja Global Solutions, Bangalore. | FATIMABI KUKNOOR | CSE |
| 254 | 19/06/2018 | Hinduja Global Solutions, Bangalore. | SANJEEVINI HOTAKAR | CSE |
| 255 | 19/06/2018 | Hinduja Global Solutions, Bangalore. | SHREEDEVI GOUDAR | CSE |
| 256 | 19/06/2018 | Hinduja Global Solutions, Bangalore. | SHILPA PUJERI | CSE |
| 257 | 19/06/2018 | Hinduja Global Solutions, Bangalore. | SHEKAR S BADACHI | CSE |
| 258 | 19/06/2018 | Hinduja Global Solutions, Bangalore. | PREETI PATIL | ECE |
| 259 | 19/06/2018 | Hinduja Global Solutions, Bangalore. | LAXMI B TALIKOTI | ECE |
| 260 | 19/06/2018 | Hinduja Global Solutions, Bangalore. | DEEPA MODI | ECE |
| 261 | 19/06/2018 | Hinduja Global Solutions, Bangalore. | MANJUSHREE C.SALIMATH | ECE |
| 262 | 19/06/2018 | Hinduja Global Solutions, Bangalore. | NEELAKKA KOPPAD | ECE |
| 263 | 19/06/2018 | Hinduja Global Solutions, Bangalore. | SMITA S. SORAGANVI | ECE |
| 264 | 19/06/2018 | Hinduja Global Solutions, Bangalore. | SAVITA MYAGERI | EEE |
| 265 | 19/06/2018 | Hinduja Global Solutions, Bangalore. | BHAGYASHREE BADIGER | EEE |
| 266 | 19/06/2018 | Hinduja Global Solutions, Bangalore. | SOUMYASHREE HIREMATH | EEE |
| 267 | 19/06/2018 | Hinduja Global Solutions, Bangalore. | RENUKA NAGANUR | EEE |
| 268 | 19/06/2018 | Hinduja Global Solutions, Bangalore. | SHILPA KARNAL | EEE |
| 269 | 19/06/2018 | Hinduja Global Solutions, Bangalore. | ANNAPOORNA R MARADI | EEE |
| 270 | 19/06/2018 | Hinduja Global Solutions, Bangalore. | BHAKTILAXMI ADYAPAK | EEE |
| 271 | 19/06/2018 | Hinduja Global Solutions, Bangalore. | KAVITA MAHADEV HADIMANI | EEE |
| 272 | 19/06/2018 | Hinduja Global Solutions, Bangalore. | JEBA YALIGAR | EEE |
| 273 | 19/06/2018 | Hinduja Global Solutions, Bangalore. | GOURAV SHETTY | EEE |
| 274 | 19/06/2018 | Hinduja Global Solutions, Bangalore. | PRAKASH KADAKABHAVI | EEE |
| 275 | 19/06/2018 | Hinduja Global Solutions, Bangalore. | G SAI VINEETH | EEE |
| 276 | 19/06/2018 | Hinduja Global Solutions, Bangalore. | VINOD HANCHINAL | EEE |
| 277 | 19/06/2018 | Hinduja Global Solutions, Bangalore. | REVANASIDDA BIRADAR | EEE |
| 278 | 19/06/2018 | Hinduja Global Solutions, Bangalore. | PRAKASH BALUNDAGI | EEE |
| 279 | 19/06/2018 | Hinduja Global Solutions, Bangalore. | MAHALAXMI  KULKARNI | ISE |
| 280 | 19/06/2018 | Hinduja Global Solutions, Bangalore. | JYOTI  BELLUNDAGI | ISE |
| 281 | 19/06/2018 | Hinduja Global Solutions, Bangalore. | SHAILA SHIRAGEPPAGOL | ISE |
| 282 | 19/06/2018 | Hinduja Global Solutions, Bangalore. | RANJITA.GUDDAD | ISE |
| 283 | 19/06/2018 | Hinduja Global Solutions, Bangalore. | FARHATJAHAN MAKANDAR | ISE |
| 284 | 19/06/2018 | Hinduja Global Solutions, Bangalore. | ASHWINI  HALEMANI | ISE |
| 285 | 19/06/2018 | Hinduja Global Solutions, Bangalore. | PREETI METAGAR | ISE |
| 286 | 19/06/2018 | Hinduja Global Solutions, Bangalore. | APEKSHA MATH | ISE |
| 287 | 19/06/2018 | Hinduja Global Solutions, Bangalore. | RAJESHWARI A HATTALLI | ISE |
| 288 | 19/06/2018 | Hinduja Global Solutions, Bangalore. | VIDHYASHREE SIDDANATH | ISE |
| 289 | 19/06/2018 | Hinduja Global Solutions, Bangalore. | AKSHATA R BHUJANGANAVAR | ISE |
| 290 | 19/06/2018 | Hinduja Global Solutions, Bangalore. | ANITA BIRADAR | ISE |
| 291 | 19/06/2018 | Hinduja Global Solutions, Bangalore. | BHAGYASHREE SAVUKAR | ISE |
| 292 | 19/06/2018 | Hinduja Global Solutions, Bangalore. | NAMRATA M GHATAGE | MCA |
| 293 | 19/06/2018 | Hinduja Global Solutions, Bangalore. | POORNIMA S KADAKOL | MCA |
| 294 | 19/06/2018 | Hinduja Global Solutions, Bangalore. | MUTTAKKA .C.GODEKAR | MCA |
| 295 | 19/06/2018 | Hinduja Global Solutions, Bangalore. | ANUSHA S MIRAJKAR | MCA |
| 296 | 19/06/2018 | Hinduja Global Solutions, Bangalore. | KOMAL  S HIREMATH | MCA |
| 297 | 19/06/2018 | Hinduja Global Solutions, Bangalore. | ASHWINI S KULKARNI | MCA |
| 298 | 19/06/2018 | Hinduja Global Solutions, Bangalore. | POOJA KULKARNI | MCA |
| 299 | 19/06/2018 | Hinduja Global Solutions, Bangalore. | GURURAJ | MECH |
| 300 | 19/06/2018 | Hinduja Global Solutions, Bangalore. | CHANDRASHEKAR PATIL | MECH |
| 301 | 19/06/2018 | Hinduja Global Solutions, Bangalore. | BHIMANNA  B. PATIL | MECH |
| 302 | 19/06/2018 | Hinduja Global Solutions, Bangalore. | PRAKASH A  MUTTENNAVAR | MECH |
| 303 | 19/06/2018 | Hinduja Global Solutions, Bangalore. | LAXMIKANT DOMBAR | MECH |
| 304 | 19/06/2018 | Hinduja Global Solutions, Bangalore. | UMESH BASAVARAJ HADAPAD | MECH |
| 305 | 19/06/2018 | Hinduja Global Solutions, Bangalore. | BHIM GOLLAR | MECH |
| 306 | 19/06/2018 | Hinduja Global Solutions, Bangalore. | AKSHAY R PATIL | MECH |